... With A Dose Of Guided Self-Hypnosis & Meditation
Getting success early on in life can be fun. Only, as Britt discovered, if it is accompanied by proper mentoring by level-headed managers / family members.
Britney Spears. The "...Baby One More Time" teenage pop diva, who captured the heart of millions of fans in 1998 was just seventeen when celebrity status hit her.
Success after success followed - giving her no time to grow up like any normal girl. Her managers and family members tried to project her as "that virgin" who is taking the first tentative steps to deflowerment. Not a Girl, But Yet Not a Woman.
What compelled her to marry Jason Allen Alexander? And then get it annulled in less than three days? Judge Lisa Brown
summed it up succinctly
: Britney "lacked understanding of her actions to the extent that she was incapable of agreeing to marriage because before entering into the marriage" Britney and Jason "did not know each other's likes and dislikes, each others' desires to have or not have children, and each other's desires as to State of residency."
Where could Britney have found the maturity for, to understand fully her own actions? They never gave her time to grow up at all.
Marriage to Kevin Federline was destined to disaster from the start. An already-married man, Kevin was rumored to be bedding with other girls in his life even while pledging undying love to our Brit. It was infidelity that apparently broke the family.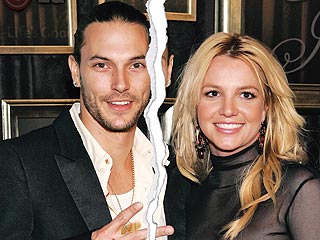 Something snapped, I think, around the time of the breakup. Kevin must have been really insensitive to her feelings about him and about the relationship. It is interesting, and characteristic of her state of mind, that she found a soul-mate in the likes of Paris Hilton, who gave Brit her shoulder to cry on. The walking around town without any underwear on, the wild partying... are all traits of a mind trying desperately to find happiness in a life that simply didn't seem to be working out... The degeneration started ... and this girl from a small town in Mississippi inevitably landed up in a drug rehab center in Antigua. Followed by the defiling session in a salon.
The latest in the Britney Spears saga, the paparazzi tell us, is that the girl has problems with her mom, and she (rightly?) blames the old lady for all the problems in her life, besides the manager who looked after her commercial interests. News released just two hours ago today (4th July) says that ex Kevin will now seek custody orders to keep Britney away from the kids, lest she should once again walk down the self-destruction path.
The past two months - May and June - have seen her struggling to find a semblance of sanity back in her life. They call it her "Comeback plan". She's got back to doing what she knows best: churn out yet another pop album.
How can she accelerate her comeback? I can suggest two good remedies that I know of:
The first is Meditation. There is
tons of information
available on the internet for how one can go about meditating. Meditation also presupposes a change in lifestyle, something
veterans too have advocated to her
. The best, best remedy for a troubled mind to find its center is
Meditation
. Half-an-hour to one-hour of meditation everyday can do wonders to her state of mind.
The second is guided self-hypnosis. These are mp3 audio scripts that one listens to from CDs, and are based on the simple but very powerful concept of positive auto-suggestion. Here is one CD that can help her rediscover herself, pick up the pieces of her life, find out what she should do next, and move on:
http://www.short10.com/?c=sdb_hypno_lifepurpos
And I guess this applies not only to Britney, but to Lindsay Lohan and Paris Hilton as well.